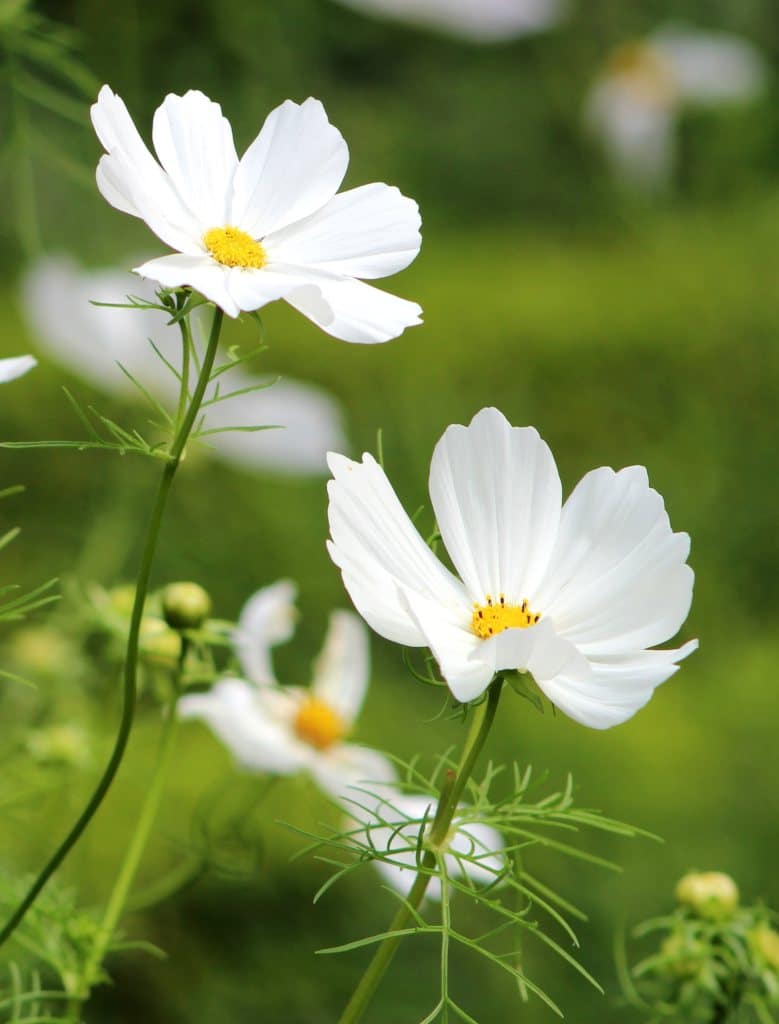 Cosmos is a very cute little annual plant, very trendy nowadays.
Essential Cosmos facts

Name – Cosmos
Family – Asteraceae
Type – annual
Height – 8 inches (20 cm) to 5 feet (1.5 meters) depending on the variety
Exposure – full sun
Soil – ordinary, rather light and well drained
Flowering – May to October
A very easy plant to succeed in growing, the blooming is abundant and its decorative effect is guaranteed.
Sowing Cosmos
In spring, right from the middle of the month of April, choose a full sun location to sow your cosmos.
If you live in areas that are farther up North, best sow starting from the month of May.
In summer, it is always possible to plant your cosmos plants purchased in a nursery pot, but the most common technique is to sow them directly from seed.
After having sown the seeds, water regularly to ensure that the soil remains damp.
Once seedlings have sprouted well, you may thin them to give breathing space to your young plants. This means removing those sprouts which are too weak and too crowded together.
Just like the aster, ordinary soil mixed with a bit of soil mix is perfect.
Avoid compact and heavy soils that would retain water instead of releasing it to the plant.
To nicely cover a surface, plant around 8 or 9 flowers to a square yard (1 m²).
Care and pruning of cosmos
Easy to grow, cosmos only asks for very little care.
For long stemmed varieties, feel free to stake them to avoid having them double over in case of wind.
All there is to know about cosmos
A plant for flower beds, edges or rocky land, cosmos is spectacular from spring to fall thanks to its generous blooming which constantly renews itself.
An easy annual, there are many different varieties and species which makes for just as many shapes and colors.
.
Common varieties of cosmos
These can be divided into three large groups, for the most common flowers
Cosmos bipinnatus – the most common one, with white, pink or red flowers.
Cosmos sulphureus – the hues from these vary from yellow to orange.
Cosmos caudatus – a more wispy variety native to South America
Not a very hardy plant, cosmos cannot withstand temperatures below freezing.
Cosmos, beautiful edible flowers
From the three groups mentioned above, only two are traditionally regarded as edible: Cosmos sulphureus and Cosmos caudatus. Pick young leaves and flowers and add them to chop suey. Pick a few petals to decorate a colorful salad bowl!
The most common Cosmos family, Cosmos bipinnatus, is not considered edible. Since it isn't toxic in any manner though, it's still very safe to grow around children and pets.
Smart tip about cosmos
In order to trigger appearance of new flowers, remove wilted flowers regularly.
Cosmos is one of the favorite flowers of bees and other beneficial insects.
---
Credits for images shared to Nature & Garden (all edits by Gaspard Lorthiois):
White cosmos flowers by Sonja Kalee under Pixabay license
Cosmos sunset by Ilona under Pixabay license
Cosmos in many colors by Annca under Pixabay license